A report from the Transportation Research Board (TRB), the largest unit of the National Academies of Sciences, Engineering and Medicine, discusses in detail regulatory and policy issues raised by the rapid growth of Transportation Network Companies (TNCs) such as Uber and Lyft and other innovative shared mobility services including carsharing, bikesharing and microtransit.
The report offers guidance to local and state elected officials and regulators on these rapidly evolving and complex issues.
Bruce Schaller was a member of the TRB committee and co-wrote the report.
---
Op-eds, articles and presentations
---
"Cities should make transit the most attractive way to get around town, reallocate street space to support higher-capacity modes, and charge all vehicles for their contribution to emissions, congestion, and use of curbs.

"In a place like Midtown Manhattan, where vehicle speeds average 5 mph during the business day, yellow cabs, Ubers and Lyfts are 50 to 80 percent of traffic flow and rapidly adding to congestion. Given these facts, it would be foolish to dismiss the notion of pressing the pause button on the spiraling growth of ride service vehicles.

"But circumstances are different in other big cities where ride services are most concentrated in nightlife districts, such as Chicago's Near North Side and D.C.'s Dupont Circle. It makes sense to manage rather than limit ride services with steps like directing drivers to pick-up and drop-off zones and cordoning off lanes for buses to speed down busy corridors."

"The numbers from my most recent research show what is also visible to the naked eye: Ride-hail and yellow cab drivers now dominate the Manhattan streetscape. Put the cap where it counts: on Manhattan's clogged streets. Limit the number of Lyfts and Ubers in Manhattan during daytime hours. That would force the companies to fill their cars and even yellow cabs." (July 2018)



This article was published in a special issue of TR News, a publication of the Transportation Research Board, devoted to the 40th anniversary of deregulation.

While airline, trucking, railroad and intercity bus industries underwent deregulation of entry and prices four decades ago, the for-hire (taxi and now TNC) sector was on a different timeline: deregulation in selected cities in the 1970s and '80s, followed soon after by re-regulation, and then the current, de factor deregulation in the form of "transportation network companies."

This article examines this cycle and looks to the future of under shared service models and autonomous technology.

Did you know that Uber and Lyft drivers spend one-third of their time in Midtown Manhattan empty searching and waiting for fares? How does this affect congestion and what can be done to have our taxi system run more efficiently?

I sit down with Bruce Schaller, a consultant, and a former executive at NYC DOT and Taxi and Limousine Commission on how best to manage our roads to alleviate traffic. We also discuss the hot topic of congestion pricing. (January 2018)

A discussion of how this "revolution in transportation" is transforming customer expectations for transit and taxis too. Published in the University of California, Graduate School of Public Policy, Policy Notes, Fall 2017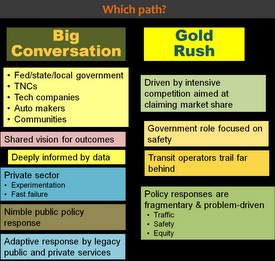 As tech firms and auto makers begin to test and look toward introducing fully autonomous vehicles, transportation, environmental and energy leaders are eagerly anticipating the replacement of private autos with systems of shared autonomous vehicles.

A system of shared autonomous vehicles (SAVs) holds the promise of saving lives, eliminating traffic congestion, increasing mobility, and reducing space devoted to parking in central cities.

While much of the discussion of SAVs is necessarily speculative and based on sometimes-arcane travel demand modeling, there is much to be learned about the path toward SAVs from current experience with Uber, Lyft and other app-based ride services. (April 2017)