The Road to Shared Autonomous Vehicles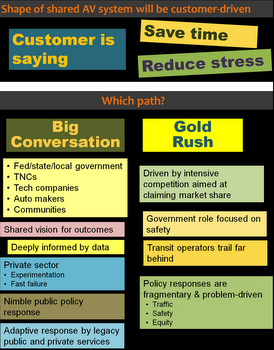 As tech firms and auto makers begin to test and look toward introducing fully autonomous vehicles, transportation, environmental and energy leaders are eagerly anticipating the replacement of private autos with systems of shared autonomous vehicles.

A system of shared autonomous vehicles (SAVs) holds the promise of saving lives, eliminating traffic congestion, increasing mobility, and reducing space devoted to parking in central cities.

While much of the discussion of SAVs is necessarily speculative and based on sometimes-arcane travel demand modeling, there is much to be learned about the path toward SAVs from current experience with Uber, Lyft and other app-based ride services.

Download and view the Powerpoint slide deck.

June 2017.
---

Copyright 2018 by Schaller Consulting